Re-Tap Machine
Since 1986, H & H Machined Products has been manufacturing our Re-Tap Machines for a variety of applications in manufacturing and assembly. These machines are safe, reliable, and very easy to use.
Safe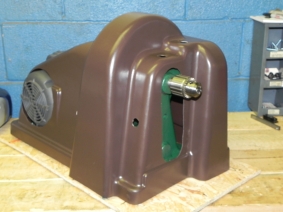 Driven by a friction wheel mechanism, the chuck does not turn until pressure is applied to it. This eliminates the risk of the operator being injured by a turning chuck while they are between parts. Once an operation has been completed, and pressure is taken off the chuck, the chuck will stop turning until the next part is ready to be processed.
Simple
The Re-Tap Machine is very simple to operate. Flip the on/off switch and the motor will run, however, the chuck does not turn until pressure is applied. Applying pressure on the chuck engages the flywheel and allows the chuck to turn. Release the pressure and the chuck stops. It's that simple!
Fast
As an assembly machine for threaded parts, the Re-Tap machine is a cost effective way of putting parts together. Simply place one part in the chuck and press the other part against it. The chuck begins to turn and threads the parts together. Release pressure when the threading is complete and you have an assembled part.
The Re-Tap machine also makes quick work of deburring machined parts or chasing threads on threaded parts that might have a burr or other imperfection in the thread. The Re-Tap machine is reversible, so it will accommodate both right and left hand threads.
The ReTap Machine is available in ¼ hp and ½ hp models.