About H&H Machined Products
Since 1980, H & H Machined Products has built a reputation for quality and excellence in the manufacturing of precision component parts for original equipment manufacturers in the energy, medical, electronics, plastics, transportation, and industrial equipment industries. From the beginnings utilizing a couple of Brown & Sharpe screw machines and a 1907 Lodge & Shipley engine lathe (see picture below), we've expanded our capabilities by adding precision CNC production turning lathes, automatic screw machines, CNC milling, and various other production machinery. H & H can machine a variety of materials including carbon & alloy steels, stainless steel, nickel, monel, inconel, brass, bronze, aluminum and plastics.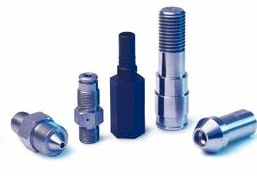 H & H Machined Products was founded by Robert Heinlein and William Hassell, hence the name H & H. Bob and Bill successfully operated the company for 30 years, expanding from a garage operation into the current 10,500 square foot facility. In 2009, Andrew and Debra Foyle acquired the assets of H & H and are committed to maintaining the quality and excellence that have been the cornerstone the company's success.